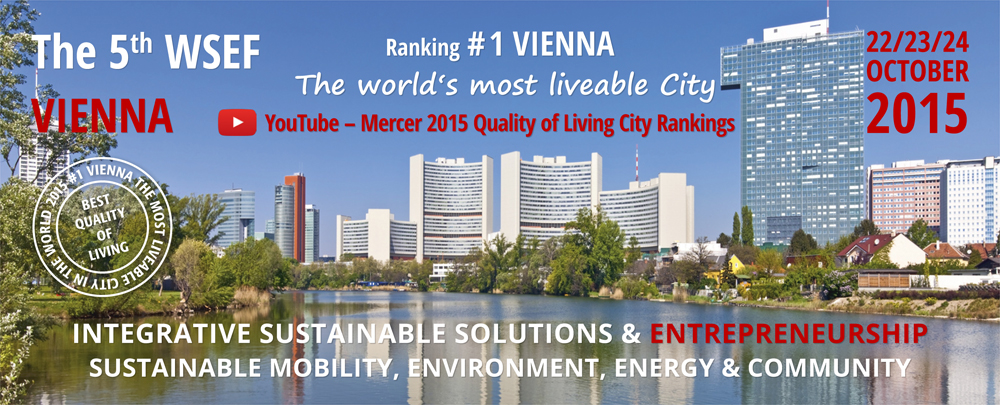 22/23/24 October 2015
GRAND HOTEL WIEN Conference Hall
Kärntner Ring 9, 1010 Vienna – Austria
Integrative Sustainable Solutions & Entrepreneurship
WSE Initiative is pleased to welcome you to the 5th World Sustainable Energy Forum in the City of Vienna, the most liveable City in the World (Vienna remained at the top of the Quality of Living Rankings in 2015 according to the Mercer Studies).
Within three days of our Forum – Conference, B2B Meetings, Exhibition and Excursion – we will discuss Integrative Sustainable Solutions & Entrepreneurship in the areas of
Sustainable Entrepreneurship & Start-Ups
Renewable Energy
Mobility & Infrastructure
Environmental Solutions
The 5th World Sustainable Energy Forum addresses people worldwide with professional competence and interest in sustainable energy solutions, issues and problem solving concepts – city mayors, decision makers, city planners and architects, companies (Energy, Environment & Mobility), non-profit organizations, educational institutions. The 5th WSEF is expecting to welcome experts and representatives of companies and organisations from the international energy and environmental sectors.
You will find more information about the Forum in our brochures.
DOWNLOADS